Laloo Bridal Jewelry: Haley + Tim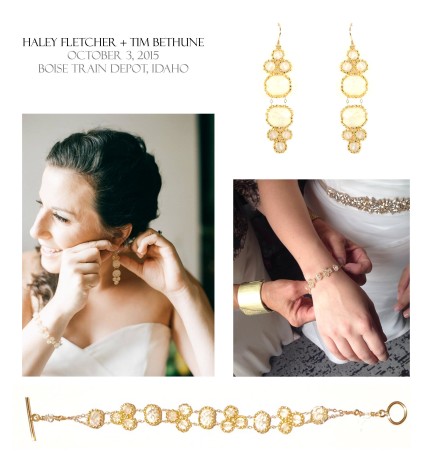 What's better than two people who make the world a better place, finding each other and falling in love?
Haley Fletcher and Tim Bethune work for
SeriousFun Children's Network
founded by Paul Newman. As the Director of Capacity Building and Director of Partner Management and Operations, they help create opportunities for kids and their families to reach beyond serious illness and experience joy and confidence through a global network of 30 camps and programs. (
Ben & Jerry
and
The Tonight Show
with Jimmy Fallon teamed up to make an
ice cream
that raises funds for the SeriousFun Children's Network!)
Nothing could out-sparkle Haley Fletcher on her wedding day. What an honor to adorn her and her wedding party in Laloo Jewelry.
Making bridal jewelry is different than making everyday jewelry. Knowing that a pair of earrings or a bracelet will be in images admired by future generations, and that the pieces themselves may be held one day by grandchildren make them heavy with sentimentality from the time they are woven. With each bead the thread passes through, a wish of happiness is written for the couple.
Here's to wishing this spectacular couple a perfect beginning to their happily ever after.